No Travel? No Trouble!
Spring back into video & photo production this February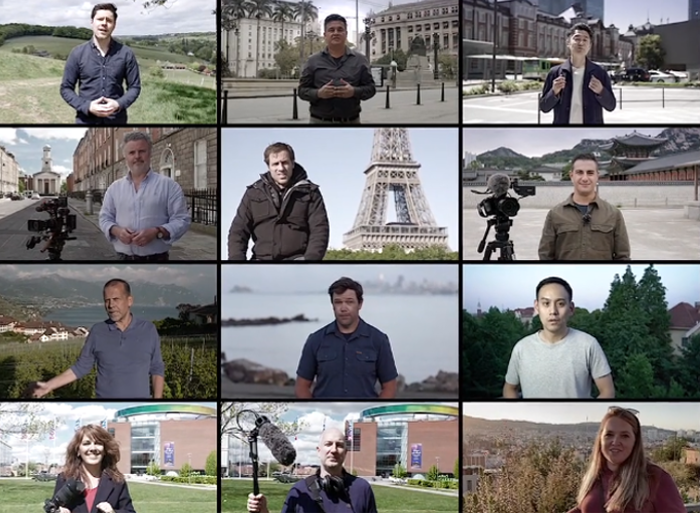 1 — Shoot video for virtual and hybrid events
You can use live video and add a pro dimension to a zoom event, or give a pre recorded keynote extra allure- and supervise from your laptop with our global event video crew.
2 — Use Local Videographers to shoot- while you direct from home
These days, travel is no barrier to attending a shoot. We have crew in all corners of the world ready to shoot 4k video and send the rushes back online, whilst you direct via zoom from home.
3 — Beat Covid stress with a down-the-line shoot
In cases where the person you want to film does not want to allow any crew onsite, we can direct and supervise an HD record via skypeTX as used by the BBC to get great talking heads and two way interviews in the can.
4 — Get great photography from local experts
Travel bans and budget cuts are no reason to put up with out of date still images! Our global bank of locally based photographers can frame anything from headshots to lifestyle and behind the scenes photography, and help you beat deadline and budgetary blues…
5 — Get Podcasting – the easy way !
Our engineer will get you and your participants in a virtual online recording session and help you record a scintillating podcast, and edit it with cool radio quality finishing touches to it to engage, enthuse and entertain your listener. All from the comfort of your home.
6 — Use remote Editors and Animators
Capacity crunch? Not with our remotely based editors, animators and effects people. We can take footage shot by you or our global crew and spin it into a slick finished film, and manage it all centrally for you.
7 — Get Covid sure and safe with our safety services and free guide
Our in-house Covid experts can do risk assesments and consulting for all productions, and we can also supply onsite Covid supervisors. If you want to get your head around best practices, why don't you download a copy of our FREE Covid production guide?
We've helped hundreds of productions of all types since the pandemic began, and we can bring lots of experience to bear to help you get shooting and earning this spring.
No travel is no trouble, when you've got us on your team. Get in touch if you'd like us to help you make a video, photo or podcast project happen!