ACrew4U help freelancers and production companies get hired
We're on our way to becoming the world's go-to production provider.
You can help us get there
We're a small, close-knit team. But, that's never stopped us from providing an unparalleled level of service to our clients all over the globe. And it won't stop us in our mission to become a world leader in what we do, either.
That's where you come in.
Matching our clients up with top-notch creative talent is kind of our thing, and we've already got a pretty huge bank of crew that stretches all over the globe. But, we're always on the hunt for more.
So, here's how it all works.
Once you've signed up using the form below, we'll reach out to find out some more about you and the work you do.
We've got a couple of checklists we'll run through during our chat, and if everything looks good, you'll be accepted into our database. Woo!
Whenever we've got a role we think you'd be a good fit for, we'll let you know. You'll become part of our massive, friendly neighbourhood of hand-picked crew, and you'll get the chance to work with famous, world-renowned brands and broadcasters in a whole host of industries. The best part? It doesn't cost you a thing.
Interested? Just scroll down to sign up.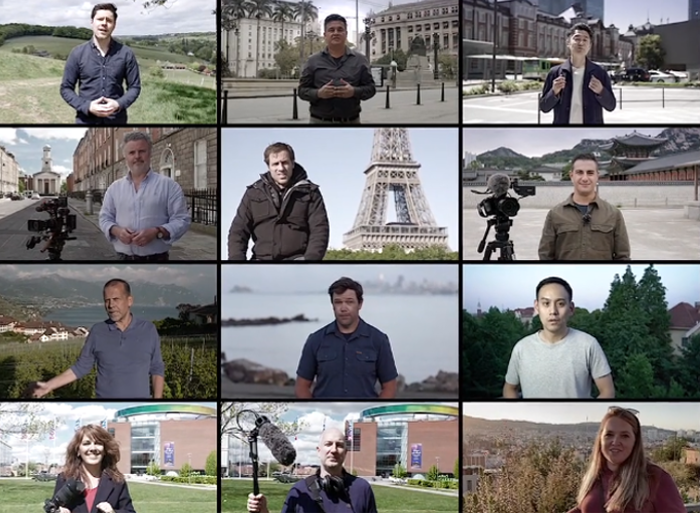 1. Get yourself signed up
If there's one thing our team loves more than providing top notch production support, it's a good, old chin wag.
If you register your interest in joining us, we'll have someone reach out for a thorough chat through your work, portfolio, and anything else you might fancy talking about.
Once we've had a good natter about you and your specialities, we'll pop your profile into the ACrew4U hall of fame. AKA, our big crew bank (cue dramatic gospel music).
Whenever we're looking to fill a spot we think you'll be just the ticket for, we'll reach out to let you know.
Now's the time to do what you do best. What you love. What you came here to do. Go forth and create!
We'll be on hand to help throughout the project if you need us. Then, once you're done, just upload your media to get paid. Tadaaa.
A – The Basics
There is no fee payable for crew that want to get signed up to A Crew 4U.
B – Please send your application
C – We'll call you to have a chat, or get in touch by email 
If your application looks to be suitable, we'll give you a call or a mail because it's good to get to know you and it's through establishing a rapport that we can all work together moving forward.
NB –  Please read the application form carefully and be sure to send us all the information we ask for. It's a bit of a chore, but will enable us to list useful details that we can consult rapidly when an enquiry comes in.
Here is the life of a job stage by stage to give you an idea of how we'd work together…
a -Client Enquiry
The client gets in touch with A Crew 4U and tells us what they require. We have a standard list of questions re genre, kit locations, etc etc.
b – Matching the Job to You
We then need to consult the database to find who is/are the best matches to the job in question.
Using the information you sent us to do so. We'd then call you if it was within waking hours in your territory.
c – Giving the Client the details and their Quote
From that information we'd then furnish the client with a quote and a quick précis on the crew we had.
d – Confirmation
Assuming all was well, we'd receive a confirmation from the client and then send you per mail or fax a summary of the job, you'd need to check and return your confirmation that it was OK to proceed with the booking.
e – Planning
We'd organise the initial planning. The minutiae of call sheets and specifics for the day would be for you and the client to manage if practicable, keeping the production manager at A Crew 4U in the loop of course.
f – The Job
Over to you for the job itself! This may be with or without the client. It's important that you're proactive in contacting the client in case of critical problems or questions that arise if working remotely. Our crews whether for production services or crewing have a reputation for being good problem solvers as well as great technicians!
g – Post Job
You'd need to log the final hours worked and consumables and extras used above and beyond initial estimate, stating the information and any reasoning behind additions on to a job sheet. As well as making sure that you are looked after we have a job to ensure that a job is as cost effective as possible for the client.
We'd need this information ideally within twelve hours of the completion of a job to enable swift invoicing.
If you had conducted the shoot on a non attended basis, we'd need you to ship the files on hard disk or USB key or online via a method agreed in advance in writing with the client and A Crew 4U and make backup copies  until we had written confirmation materials were received fine by the client.
A crew 4U will also want your feed back on the shoot and that of the client so we can collectively continually improve the services we all offer.
We don't expect you to be an exclusive contractor for us. We hope that, once signed up, we'd be able to help you earn an additional part of your income with us moving forward of course. Once you have been booked to work for a client via us, we require you and the client to agree that you will always conduct bookings via us for said client in the future.
You're the only one responsible for your taxes and social security payments that are due in your territory.
This is all detailed in the joining us guide and associated terms and conditions that we ask you signify your agreement with at the time that you apply to join the team.
If we've not scared you off yet, we'd love to hear from you. You need to send an application using the application form.
You are free to set whatever rate you like. We add a production fee to your rate when we quote the client.
Please do bear in mind that we're in a  post Covid recession at present and that competitive rates and a willingness to come to a deal in cases is always valued by clients and us alike.
Before we start we will need
U.K. crews will also need to submit
a certificate of incorporation / IR 35 self asessment for Ltd co's / Sole traders or Freelancers respectively
For Crew and Suppliers of: ACrew4U branded video crewing services. They apply to all business dealings we have with Crew
By working with ACrew4U you agree to the following conditions of business:
Terms and Conditions of business
for Crew of ACrew4U branded video crewing services, a trading style of ACrew4U Ltd.
Revised 9 Feb 2021 WJM
1-Application
1.1 These Terms & Conditions apply to all crewing and services supplied by ACrew4U Ltd trading under the ACrew4U brand. They also apply to all projects that are subject to ACrew4U branded budgets, quotes and estimates.
2-Definitions and interpretation
2.1 The following expressions are defined as set out below:
Assignment: signifies the temporary employment, hire or other utilisation, whether under a contract of service or otherwise of a Freelancer by or on behalf of the Client for a specified period of time, task or project.
Client: signifies any person, film or company that contacts ACrew4U Ltd trading as A Crew 4U with the intention of booking an Assignment or otherwise employing a Crew or freelancer or to whom a Crew is introduced by ACrew4U Ltd trading as A Crew 4U.
Crew: signifies any freelancer, other person or company who is introduced or supplied by ACrew4U Ltd trading as A Crew 4U to the Client with the intention of conducting work on behalf of the Client.
Party, the Parties: refers to the Crew (1); ACrew4U branded video crewing services a trading style of ACrew4U Ltd (2).
ACrew4U Ltd, "we", "us", "our" and "ours": refer to ACrew4U Ltd trading as ACrew4U and to employees and agents of the respective companies. ACrew4U Ltd has the registered address Studio F7 & F8, Battersea Studios, 80 Silverthorne Road, SW8 3HE United Kingdom and is registered in England and Wales with company number 06082546.
2.2 Titles and headings do not form part of the Terms and Conditions.
2.3 "He" refers to "he" or "she."
3-Obligations of ACrew4U Ltd
3.1 ACrew4U Ltd will use reasonable endeavours to effect the introduction of a suitable Video Crew to its Client.
3.2 In the event that the Client notifies ACrew4U Ltd that a Crew is unsatisfactory during an Assignment, we will make all reasonable effort to contact the Crew to settle any disagreement, but if we are satisfied that the Client's criticisms of the Crew are reasonable, ACrew4U Ltd reserves the right to provide the Client with a suitable replacement Crew. This may result in a review of our accreditation of the Crew for eligibility for our services.
3.3 At the completion of the Assignment, or otherwise as agreed between the Parties, and following receipt of the Crew's timesheets and receipts for expenses (which must be validated by a Purchase Order issued by ACrew4U Ltd) we will pay each Crew the fees or hourly rate which have been agreed between the Parties to these Terms and Conditions.
3.4 If a Client cancels an Assignment, ACrew4U Ltd will only reimburse the Crew if we obtain the necessary cleared funds from the Client.
3.5 ACrew4U Ltd reserves the right to withhold payment for part or all of the Assignment in question if the Client deems the footage to be of an insufficient quality, until a review has been made of the footage and agreement sought with the Client regarding any discounts that may be applicable in light of remedial work needed or reshoots necessary in order for the Client to have usable footage for their project.
4-Obligations of the Crew
4.1 The Crew must treat the Client or representatives thereof with the highest standards of courtesy and must follow the Client brief as closely as possible.
4.1.1 The Crew Agree to Abide by the terms of the company's Sexual Harrasment policy at all times.
4.2 The Crew must co-operate with all reasonable requests made by the Client and their representatives, and must inform ACrew4U Ltd without delay if requests made by the Client are beyond the terms agreed between the Client and the Crew and are unreasonable.
4.3 The Crew must ensure that their equipment is all in working order for the shoot including camera, tripod, monitor, sound recording equipment, vehicle, lighting and backup equipment and any other parts of the shooting package.
4.4 The Crew is expected to observe call times and to be ready to work at a time requested by the Client and must convey a professional image at all times.
4.5 The use of substances that are illegal under English law is prohibited at all times throughout the Assignment, regardless of the legal status of the substances in the location of the shoot.
4.6 Drinking alcohol on a shoot is prohibited. In the 24 hours before a shoot the Crew may consume a moderate amount of alcohol but must ensure that no loss of working quality arises and that a professional image can be maintained. Furthermore, whilst at work Crew must at all times be in a fit state to drive and below the drink driving limit of the territory where the shoot is taking place. This applies regardless of whether or not it is anticipated that the Crew will be expected to drive.
4.7 Where the territory in question has no drink driving regulations in place, the Crew must meet the standards set by the UK highway code with regard to fitness for driving as stated here:http://www.direct.gov.uk/en/TravelAndTransport/Highwaycode/DG_069855, or any other UK government standards as set from time to time.
4.8 The Crew must adhere to the appropriate workplace health and safety practice. The Crew must inform the Client and ACrew4U Ltd without delay of any uncertainty about health and safety issues that may arise during the Assignment, involving themselves or other Crew or participants on the project. If the Crew has concerns which have not been resolved, they should consider withdrawing from the Assignment.
4.9 The Crew must not work at height, at depth or underwater, unless the Client provides both the Crew and ACrew4U Ltd with written proof of adequate insurance cover, and a risk assessment, as well as providing sufficient and appropriate safety equipment and personnel.
4.9.1 As part of our commitment to provide a safe working environment for all on set during the unprecedented fast changing COVID 19 situation we need to ask you and all of the crew that will be present on a shoot to confirm in writing by signing the below linked to health declaration form (Here is a link to the health declaration form) before each shoot, as part of your agreement with ACrew4U confirming that:
You have no cause to believe that you have COVID 19 (an NHS symptom checker can be found

here

) or may have been exposed to COVID 19.
You have been meeting the UK Government COVID 19 guidelines and social distancing when not at work as defined

here

(or as per restrictions in the country where the shoot will take place)
As far as you are aware, you have not been in close contact with a confirmed case of COVID 19 or anyone who is showing symptoms consistent with COVID 19 within the last 14 days.
You have not had a cough, or a temperature of 38 degrees centigrade or above in the last 14days
If you develop a cough or a temperature of 38 degrees centigrade or above at any point before or during or within 14 days following the shoot you will immediately inform the production company engaging you. 
If you are over 70 years of age or have any pre existing conditions which would put yourself at increased risk of severe illness from COVID 19 as defined by the Government

here

, you must inform the production.
You will notify us immediately should anything change as regards to the above confirmations
Here is a link to the health declaration form 
4.10 The Crew must have a valid driving licence for their country at the time of the Assignment and must obtain any international driving permit if required for the Assignment. Where there is doubt about any requirements, the Crew must consult the Client.
4.11 The Crew must ensure that if they fall ill during an Assignment they inform the Client and ACrew4U Ltd without delay.
4.12 The Crew must ensure that at all times during the Assignment they have adequate supplies of medicines that they require on a regular or on a contingency basis, for example, to regulate diabetes, or asthma.
4.13 The Crew must ensure that they have had any vaccinations, as appropriate to the location of the shoot. To determine whether vaccinations are appropriate, the Crew shall refer to current UK government public health guidance.
4.14 The Crew must dress appropriately for the Assignment in question and adhere to a dress code if required to do so by the Client. If in doubt the Crew must enquire with the Client as to the correct dress code to adhere to.
4.15 Whilst on a shoot the Crew must rectify problems and issues that are identified by the Client on the spot and as quickly as possible. If this is not possible, the Crew must inform ACrew4U Ltd and inform the Client that he has contacted us.
4.15.1 After the shoot crew must send an email to say how the job went, to list any problems that occurred and also to state how problems were solved and whether the client / subject was satisfied
4.16 Once an Assignment has commenced if the Crew does not complete the agreed Assignment without valid justification, he is liable for the fees in full for the complete Assignment for ACrew4U Ltd. We reserve the right to substitute a Crew of equal or greater professional capability for the duration of the Assignment.
4.17 The Crew are not employees of ACrew4U Ltd and must make all the necessary returns and payments of income tax, National Insurance, and of any other mandatory social security or other contributions or taxes stipulated by English law (or by the laws of any other relevant state) of their own accord.
The Crew will be solely responsible for all income tax and personal national insurance contributions or similar taxes due in respect of the rendering of the Services under this agreement.
If any withholding or similar taxes or duties are or may be required to be paid by ACrew4U Ltd or any affiliate to any government (or any fiscal authority or other branch of such a government) in respect of the remittance to you of the Fee (or part thereof) in this Agreement, then we shall be entitled to withhold from the Fee such sums as such government, fiscal authority or branch may require to be deducted and/or withheld. Any VAT and/or GST charges or similar taxes applicable to the Services shall be the sole responsibility of the Crew. In no event shall the Fee be increased to account for such charges.
4.18 Independent Contractor Relationship: the Crew's relationship with ACrew4U Ltd is that of an independent contractor, and nothing in this Agreement is intended to, or should be construed to, create a partnership, agency, joint venture or employment relationship. The Crew is not authorized to make any representation, contract or commitment on behalf of ACrew4U Ltd. For the avoidance of doubt, the Crew is acting in its own name and on its own account as principal in the performance of the Production Requirements.
4.19 For all Assignments, the Crew must have his own Public Liability Insurance cover and be able to produce a copy of it if required.
4.20 The Crew must keep backup copies of all material captured during the Assignment until notified either directly by the Client or by ACrew4U Ltd that it is safe to delete.
4.21 If the Client or their representative arranges directly a subsequent Assignment for the Crew or introduces the Crew to a third party who arranges an Assignment for the Crew, and either arrangement is made within 6 months of the last date on which the Crew provided services to the Client, the Crew must inform ACrew4U Ltd about the arrangement without delay. This is the case whether the new arrangement is a temporary Assignment or permanent employment.
4.22 The Crew must have completed and signed the new crew sign up form before we can issue a Purchase Order to them
4.23 Payments
4.23.1 During the shoot the crew must notify ACrew4U of any additional time and expenses incurred and inform the client on site if appropriate4.23.2 Unless it has been otherwise agreed in writing, The Crew will only and always bill for parking, travel, food and drink, shipping and hard disk drive and other media at their cost price only and with supporting receipts that must be supplied at the time of invoicing
4.23.2.1 ACrew4u Ltd is prepared to pay for food only if the shoot is longer than 4 hours. For 4 to 8 hour shoots ACrew4u will pay a maximum of £10 (or equivalent rate in native currency) per person, per day and for over 8 shoot hours in a day, Acrew4u will pay a maximum £25 (or equivalent rate in native currency) per person per day unless otherwise agreed beforehand.
4.23.3 If directly booking travel and accommodation ACrew4u Ltd expects the crew to choose the least expensive version that covers all needs. The Crew should get approval from ACrew4u before booking anything and send all copies of travel receipts upon completion of the job. 
4.23.3.1 ACrew4u will pay mileage at the applicable rate of the Crew's country. This must be included in the quote alongside any tolls, parking or road charges if known.
4.23.3.2. ACrew4u will not pay for any parking tickets or fines. It is the responsibility of the Crew to ensure they have parked safely and legally and paid any applicable parking charges 
4.23.4 Unless it has been otherwise agreed in writing, The Crew will only bill for overtime with valid supporting information outlining why overtime was needed.
4.23.6 Crew must send invoice for shoot itemising and justifying any overtime or additional expenses and always state full bank details (BIC/SWIFT Code and or IBAN) Payment will be made within 45 days of receipt of valid invoice
4.23.7 ACrew4u Ltd is not liable for any payment or bank charges deducted from the Crew's invoices during transfer. An additional cost to cover these charges can be included on the invoice, but only if it is stated in the original quote issued to Acrew4u. 
4.23.8 The Crew must not at any stage discuss payments, invoice amounts or financial matters with the Client, or include the client in such discussions. All discussions regarding financial matters should solely be between the Crew and Acrew4u Ltd. 
5-Status of Enquiries, Options and Bookings
5.1 ACrew4U Ltd will confirm to Crew that a booking has been made by sending a purchase order ("P.O.") to the Crew. An enquiry in no way constitutes a booking by ACrew4U Ltd.
5.2 An option or "pencil" in no way constitutes a booking by ACrew4U Ltd.
6-Planning
6.1 Freelancers work for a shift with the number of hours agreed.
6.2 The Crew must supply to ACrew4U Ltd a timesheet stating hours worked and any overages and scans of all receipts for expenses within 24 hours of the end of the Assignment, and post the corresponding originals of these documents to ACrew4U Ltd as soon as practicable.
7-Consumables
7.1 Crew should handle consumables with care at all times, whether these are provided by the Client or by another party, and report any issues arising to the Client without delay.
8-Safety Copies
8.1Where shooting on non tape based media, the Crew must make and keep secure a backup copy of all footage for a period of at least three weeks after the Assignment is completed.
9-Content Exclusivity
9.1The Crew and ACrew4U Ltd respect the sensitive or exclusive nature of some Clients' projects and maintains information clearly defined as private and confidential as such.
9.2 The Crew must not make any reference to Assignments or feature footage or stills on social media, or comment on any discussions, unless this has been approved in writing by ACrew4U Ltd, even where no confidentiality agreement has been signed.
9.3 ACrew4U Ltd reserves the right to make non-commercial use of text, photos and video content from the projects it services or produces.
9.4 ACrew4U Ltd makes use of public information with absolute discretion and respect for broadcast and/or distribution calendars.
10-Approval of Materials and Footage and Quality Control
10.1 For a shoot where the Client or an agent of the Client is present (an "Attended" shoot) the footage is viewed/checked by the Client during the production days immediately after each shooting day.
10.2 The Crew must check with the Client each day to ascertain that the footage is of an acceptable standard and make all reasonable efforts to rectify issues arising and prevent recurrence of problems.
10.3 If the Client is not present on the shoot (a "Non-Attended" shoot) , the Client will notify ACrew4U Ltd following the reception of rushes either in a physical form via Hard Disk Drive or Tape or if delivered in an online fashion such as an FTP transfer of issues that the Client believes render the footage or part of the footage to be of an insufficient quality.
10.4 ACrew4U Ltd will then proceed with a Quality Control ("Q.C") viewing of the footage to determine scale and type of defects.
10.5 The footage shot by the Crew should conform to BBC General Video and Audio Quality standards defined in Section 3.1 of the BBC Technical Delivery Standards
The BBC specification in question can be downloaded here http://dpp-assets.s3.amazonaws.com/wp-content/uploads/specs/bbc/TechnicalDeliveryStandardsBBC.pdf
11-Liability
11.1 ACrew4U Ltd does not exclude or restrict liability for fraud, or for death or personal injury caused by negligence.
11.2 Subject to the previous clause, ACrew4U Ltd shall not be liable to the Crew for loss of profit, revenue, contracts, anticipated services or for any indirect or consequential loss. ACrew4U Ltd shall not be liable for acts or omissions of the Client or of other Crew, whether or not these have taken part in the Assignment as a result of our involvement, or for any damage or loss caused as a result of their negligence or delay.
11.3 In any event, but not including fraud, and not including death or personal injury caused by negligence, ACrew4U Ltd shall not be liable to Crew for more than £ 200.
12-Entire Agreement/Amendment
12.1 These Terms and Conditions incorporate all other documents and written or oral terms agreed and represent the entire and integrated agreement between the Parties hereto with respect to the subject matter hereof and supersede all prior negotiations, representations, or agreements, either oral or written between parties.
12.2 In the event of any conflict between these Terms and Conditions and any other Terms & Conditions, these Terms shall prevail unless expressly otherwise agreed in writing by ACrew4U Ltd, and no reliance shall be placed by either Party on other representations.
12.3 This agreement may be amended or modified only by a written document signed by all Parties.
13-Dispute resolution
13.1 The Parties agree to seek to resolve any dispute which arises during the continuance of this agreement or upon its determination amicably and in good faith by negotiation in the first instance.
13.2 If the dispute continues to be unresolved then the Parties agree to attempt to settle it by mediation and the mediator may be nominated by the Chair of the Bar Council on the application of either Party.
13.3 If the dispute is not settled at mediation in accordance with this clause within a period of twenty working days or such longer period as may be mutually agreed after the appointment of a mediator, either Party shall be entitled to resort to any other process for resolution or litigation.
14-Applicable Law
14.1 The law of England and Wales applies to these Terms and Conditions and to all other dealings between the Parties.
Declaration
By accepting a purchase order you confirm that you accept these Terms & Conditions and acknowledge you have read and understand them.
REV 11 SEPT 2023 WJM 
Apply to join aCrew4u below!
Please Note
You won't be able to complete your application unless all required fields are completed. Required fields are marked with a red asterisk (*).
Because lots of content required for the application, it is not recommended that you complete this application using your mobile device, and that you use a computer instead.
When you post a website address you need to include the http:// or https:// bit as well as the www bit
"True" in a checkbox means yes
You need to allow 15 minutes to complete this form. Grab a cup of coffee and get started now!